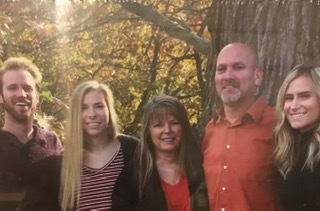 Day #43 Bittersweet
Ken Eaton
Friday, May 15, 2020
Good morning Panther Nation!
School's out! I was never a fan of the rock 'n' roll legend Alice Cooper. But that song was a good one. Years ago we had a student at school named Bruno. He was such a good hearted kid and always wanted to please others. He had some very serious health issues and passed away as a very young adult shortly after he graduated. My heart still aches for his family. We have had a few other young people passed away that were either in school at the time or shortly after. There is never a day that goes by that I don't lift up their families in their loss. Anywho, I remember every year on the last day of school Bruno would bring a big ole battery powered radio to school, when the final bell would ring he would walk out of school blasting that Alice Cooper song "School's out." I actually looked forward to that each year! It was a riot!
This is my last blog. I know some of you are saying "great, I'm sick of his ramblings." Others have reached out and said "thank you." I'm actually going to miss these. It has given me a chance to express how I feel about the school and community that my family has become so accustomed to. Mound City School and the Mound City community has been our life for thirty years. I grew up in Maysville, actually a little town eight miles north called Fairport. Fairport at that time was ninety people. We were not part of the census population because we lived a mile and a half south. My parents bought my Grandpa Vester and Grandma Mary's farm when they retired from farming and moved to the huge thriving metropolis of Maysville (population 1148). Seriously it was over thirteen times bigger that Fairport! Anyway, when we moved to Fairport and lived in my grandparent's house I was in the fifth grade. I was the only fifth grader. Grades five through eight were in the same classroom with the same teacher, and down the hall grades one through four mirrored that. I was the valedictorian of fifth grade! Right before the Thanksgiving holiday Jayleen S. and her family moved back to Fairport, she enrolled and just like that I was the salutatorian of the fifth grade. I almost had glory! Rural America and small towns are great places to grow up, don't ever let them tell you different!
Back to the important stuff. My last blog of this strange ending to our school year and the last day of school of my career brings happy and sad thoughts. So many great relationships have been formed over my time here with the community, educators, parents, and especially students. I really don't know what to say. You see I have been in school for the past forty-eight years. Yep, preschool to now, forty-eight years. I can't express how blessed I and my family have been to be associated with such a great town and the people who make it so. This is hard. Thank you so much, love ya.
Don't forget tonight at 6 pm to drive by the school if you can and wave at to your teachers in the front lawn of school. Have a great summer!
Stay healthy!